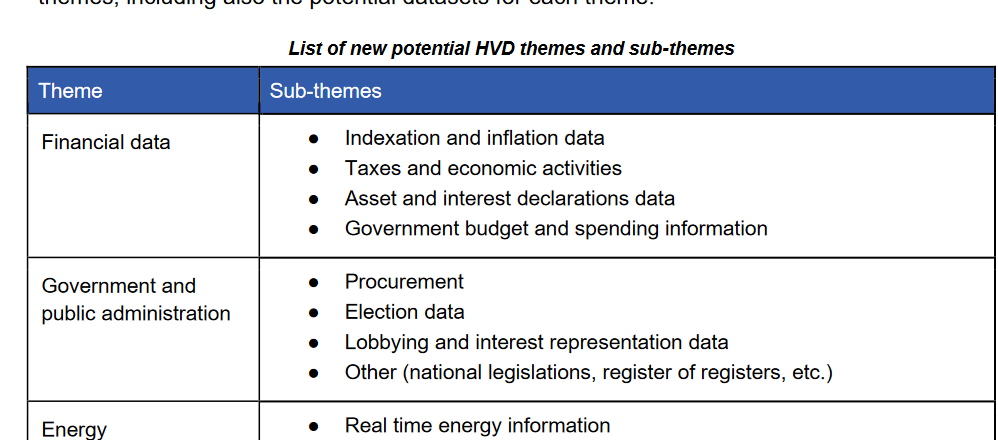 Published date
24 Aug, 2023
Related tags
Open data
Open spending
Public spending
Finally, the long-awaited study on "Identifying Data Topics to Expand High-Value Data Sets for the Public Sector" has been released. Its goal was to identify new categories of data which, according to the Open Data Directive, should be classified as High-Value Datasets. The study was conducted by PwC on behalf of DG Connect.
From the beginning of the work on this document, we as the Coalition were involved in the entire process. We provided written comments and participated in workshops and other meetings.
We are pleased to see that among the proposed data categories included those relating to "public procurement" (as a subcategory of Government and public administration). And as a subcategory of Financial data, it was proposed that data relating to "Government budget and spending information" be recognized as HVDs.
The study's authors propose that the public procurement category should include at least the following information:
Tenders per government office
Awards per government office
Contract and implementation data.
The authors claim that the current level of availability of public procurement data in Member States is at an average level. Our recent report showed that it is even better.
The Study is only the beginning of the (much-delayed) process of establishing new categories of HVDs. The most important thing is to start legislative work. We are trying to put pressure on them to begin as soon as possible, so that the Implementing Act defining the new HVDs categories will be drafted while the Commission is still in office.
If this topic is close to your heart and you care about increasing transparency in public spending follow our activities and join in supporting our campaigns.