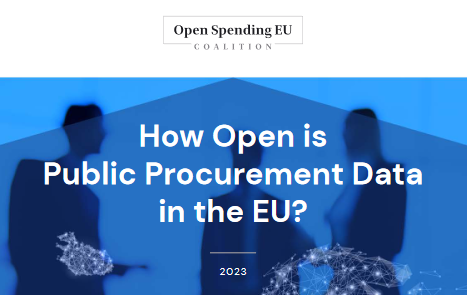 Published date
10 Jul, 2023
Public procurement counts for 14% of the EU's GDP. Businesses, especially SMEs,
seek lower barriers to participation, governments need more efficiency, and citizens want the best services, works, and goods for their tax money. Access to procurement information is mission-critical for all of these aspirations. Yet public procurement data across the EU remains patchy and inaccessible. It is not yet possible to establish a coherent picture of what most governments are buying, when, from whom and for how much.
How Open is Public Procurement Data in the EU? Coalition's new study
One of the most powerful moves the European Commission can make to address this problem is to mandate harmonised procurement data publication across the EU by including public procurement in the list of High-Value Datasets under the Open Data Directive. The European Parliament encouraged the Commission to do that in its recent Resolution on E-Government (para 35). This study looks at how much public procurement data, below the EU publication thresholds, was available across all EU countries in 2022 with the goal of informing policy considerations for amending the Open Data Directive.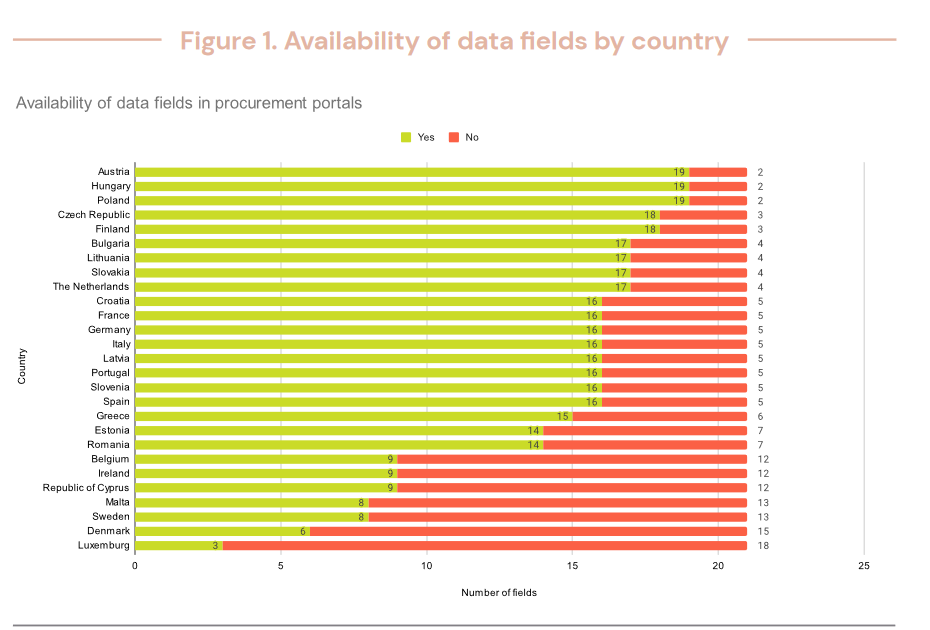 It finds that:
– Data availability varies very widely with some countries like Luxembourg only publishing three fields of data in their national portal to others like Austria publishing 19 fields of data
– Some key fields for analysis and understanding of procurement like award values and contract implementation information are not routinely disclosed by Member States
– Just 60% of EU countries publish some procurement information as open data
– Less information is machine readable than is published on national portals.
For instance, in the case of Hungary, while it has 19 out of 21 fields in its system, the information is not available for download in open formats (CSV, JSON, XLM) and has to be scraped from the procurement portal, which limits access to users
– Only around 20% of countries publish some information about contract implementation, although still in very limited amounts
– Completeness of information varies widely. On average, data availability is over 85% for fields related to the tender title, buyer name, award dates, supplier names and CPV codes. In comparison, for countries that publish fields related to contract implementation, the average coverage is very low (4%), meaning this information is only available for a few procedures.

The Member States and the European Commission can improve the situation
immediately:
– Countries should implement the new procurement eForms in their entirety (as much as possible) for harmonised data collection purposes and strengthen transparency regulations for spending data below the national and EU publication thresholds
– The European Commission should include public procurement in the list of High-Value Datasets under the Open Data Directive
– We provide a recommended list of data fields to be published in Table 2 (p. 8) that would significantly improve the quality, completeness and usability of European procurement information for policy goals such as encouraging entrepreneurship, SMEs and innovation.